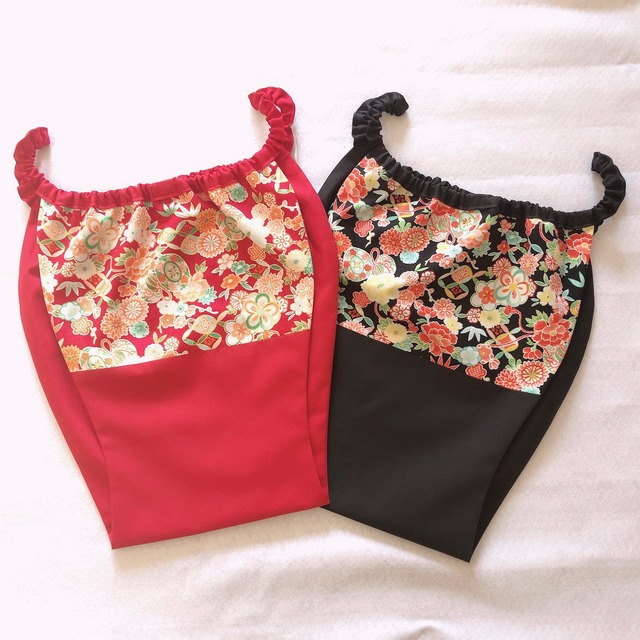 【受注生産】はごろもショーツ蓮 HS0014-S2102BK 男女兼用 [Made-to-order] Comfortable underwear Hagoromo shorts Ren -Lotus- Unisex Black
¥3,630 tax included
the last one
友だちのお父さん(70代)がものすごーく気に入ってお母さんにいっぱい作って貰ったそうです。

主人(50代)と息子(6歳)も愛用しているはごろもショーツ(蓮)の型紙を使用しています。

男性用のボクサーパンツって蒸れたり意外と締めつけたりしちゃうものが多いですよね。
男性の身体の機能上ゆったりと通気性が良いことを意識して下着選びをしたいですね。

プレゼントにもオススメですしふくよかな女性にも好評です♡

【色・柄】
和柄/黒
※赤もあります。赤黒のセットは少しお得です。

【素材】
無地/綿100%(ブロード)
和柄/綿100%(スケア)
ゴム/ポリエステル

【サイズ】男女兼用
女性L~LL
男性M~L
股上が平置きで30cm
ウエスト約110cmまで(ゴム調節)
※ふんどしパンツのウエストはお尻や太ももなど一番広い所が通るのが目安です。

【ご注意点】
受注生産です。混雑時はお届けまでに最大2~3週間かかることがあります。


★ Made to order ★

Fundoshi shorts
Type: Unisex
Paper pattern: Ren -Lotus-

Fundoshi is a traditional loincloth underwear that has long been worn in Japan.
Fundoshi shorts are inspired by the traditional loincloth.

Wear a shorts loosely by hanging waistband on your hip bone.
You will realize that the feeling of fatigue is completely different because the base of legs is not tightened.

Have you ever felt that many men's boxer shorts are stuffy or too tight?
Choose this comfortable and breathable underwear.

A close friend's father liked our Ren series shirts a lot, so he asked his wife to make more.
The shop owner, Haruyo said her husband and son also love these shorts!

Great for a gift and popular for larger sized people, too.


= Description =

[Colour / Pattern]
Black / Japanese pattern

[Material]
Body / Cotton(broadcloth)
Japanese pattern / Cotton
Elastic / Polyester

[Sizes] Unisex
-> Women L ~ LL
-> Men M ~ L
Rise: 30cm
Waist: Approx. 110cm*
*This is the maximum length. For putting on and taking off, please measure the actual size of hip/thigh before ordering.

We will deliver the products with the waist elastic loosened. Please adjust it to your favorite length and wear it.

[Note]
This product is made-to-order. Please understand that it may take 2 to 3 weeks to arrive when it's busy.
Add to Like via app
Reviews

(9)

Shipping method / fee

Payment method